5.3.1. Drawing your scene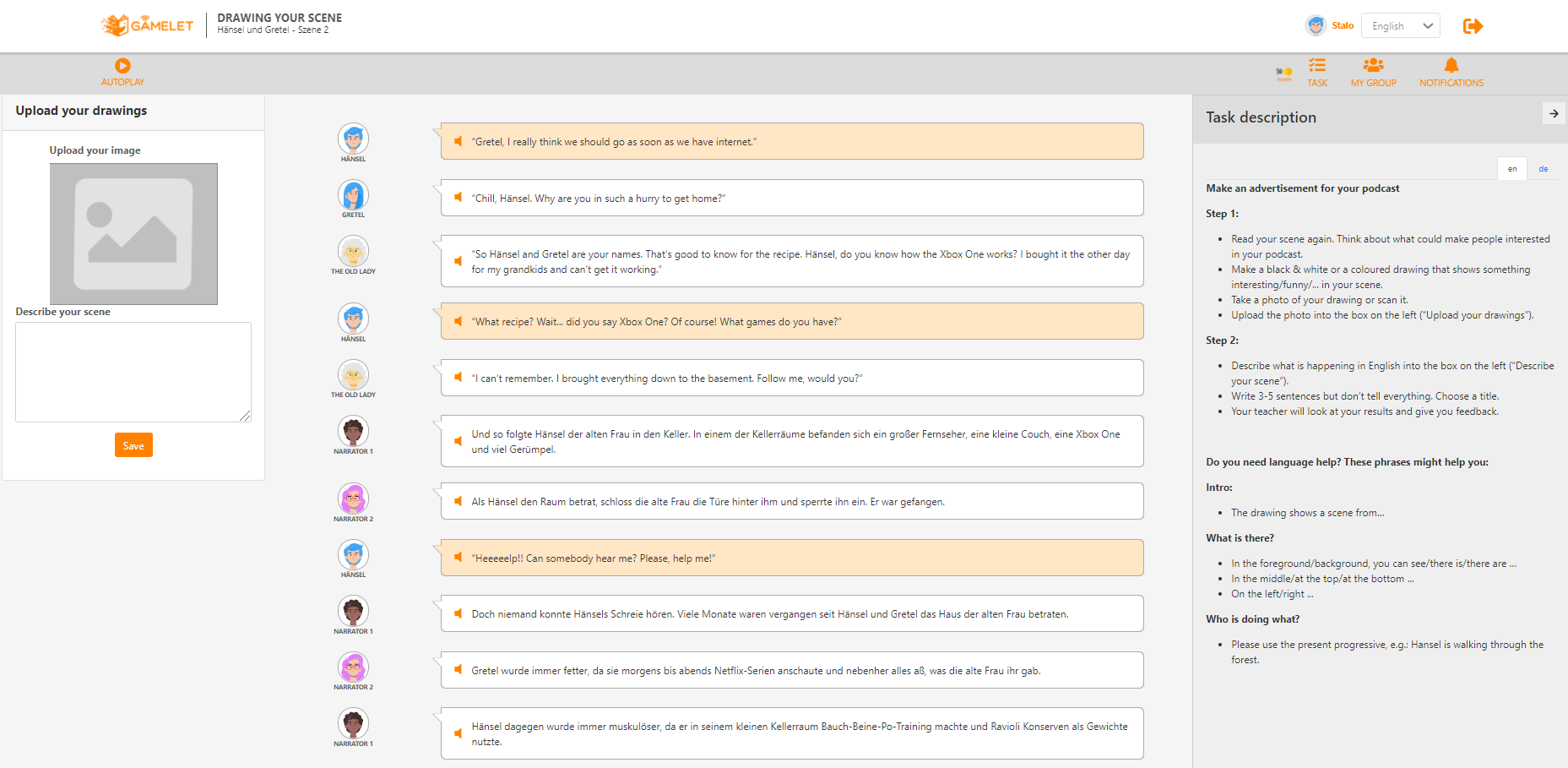 Short task description
Students should (i) determine the main action of their scene and then draw it; (ii) describe the drawing and upload both products into the GameLet environment; (iii) receive points for the timely submission of products and (optional) for the quality of their results (teacher feedback).
Aims
To aid student comprehension of their scene
Social format
Individual Work
Synchronous/
asynchronous mode
Asynchronus
Feedback
Students are given points on timely submission of products
(optional: 1 x teacher feedback is given on the quality of the drawing and the description)
Equipment
Paper and pencils to create the drawing
Moodle forum to upload the drawing
Time needed
40 min
Possibilities for differentiation
Standard version: Students may describe their drawing in L2
↓: Descriptions in L1
↑: Descriptions in L2 + brief summary of their scene
Task description
During the Drawing Your Scene game, students will (i) draw either the main action, or an especially interesting action within their scene; (ii) create a description of the drawing and then upload both products in the GameLet environment; (iii) receive points for the timely submission of products and (optional) for the quality of their results (teacher feedback).
Using the game
Create a podcast advertisement
Step 1: Read your scene again. Think about what could make people interested in your podcast.
Step 2: Draw a black & white or a coloured sketch or picture that shows something interesting/funny/... in your scene.
Step 3: Take a photo of your drawing, or scan it.
Step 4: Upload your advertisement drawing into the left menu box titled "Upload your drawings", on the left side of the screen.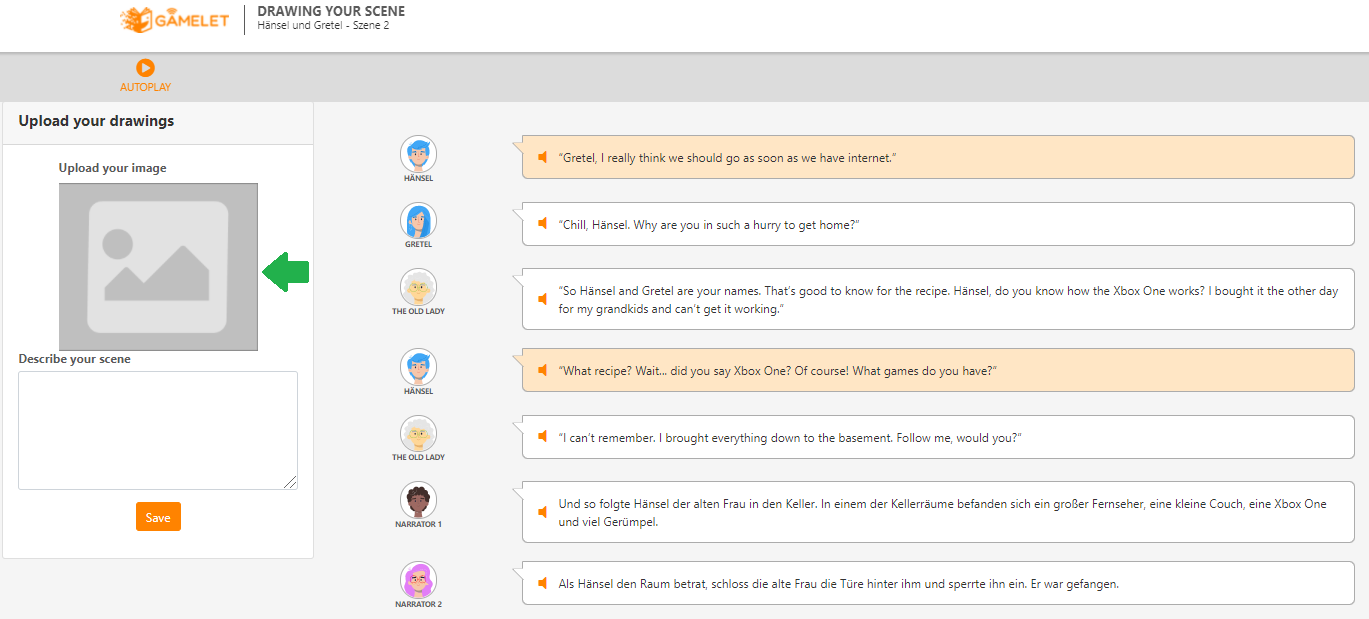 Step 5: Describe the advertisement scene in English and upload and enter your description it the left menu box titled "Describe your scene". Then click on the 'Save' button.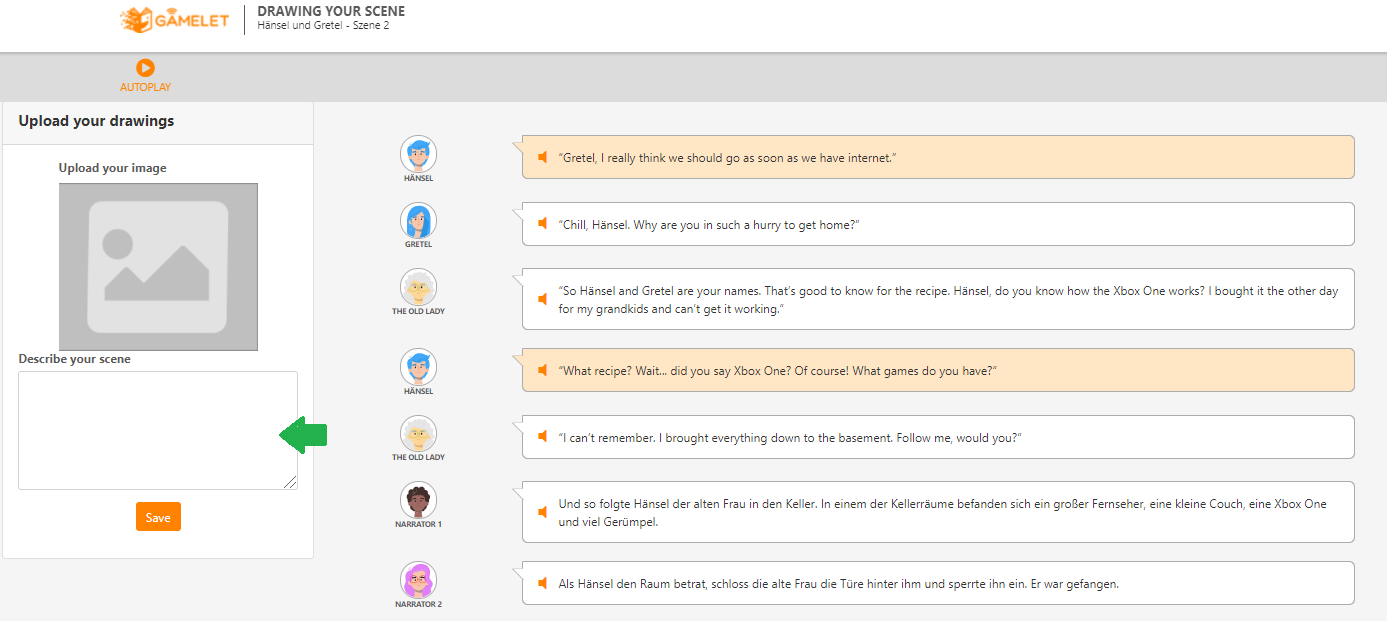 Step 6: Write 3-5 sentences of the key points in your advertisement. And now choose a title. Your teacher will look at your results and then give you feedback.
Do you need language help? These phrases might help you:
Introduction:
The drawing shows a scene from…
What can you see?
In the foreground/background, you can see/there is/there are …

In the middle/at the top/at the bottom …

On the left/right ...
Who is doing what?
Please use the present progressive, e.g.: Hansel is walking through the forest.
The Awarding points are then displayed, as shown below.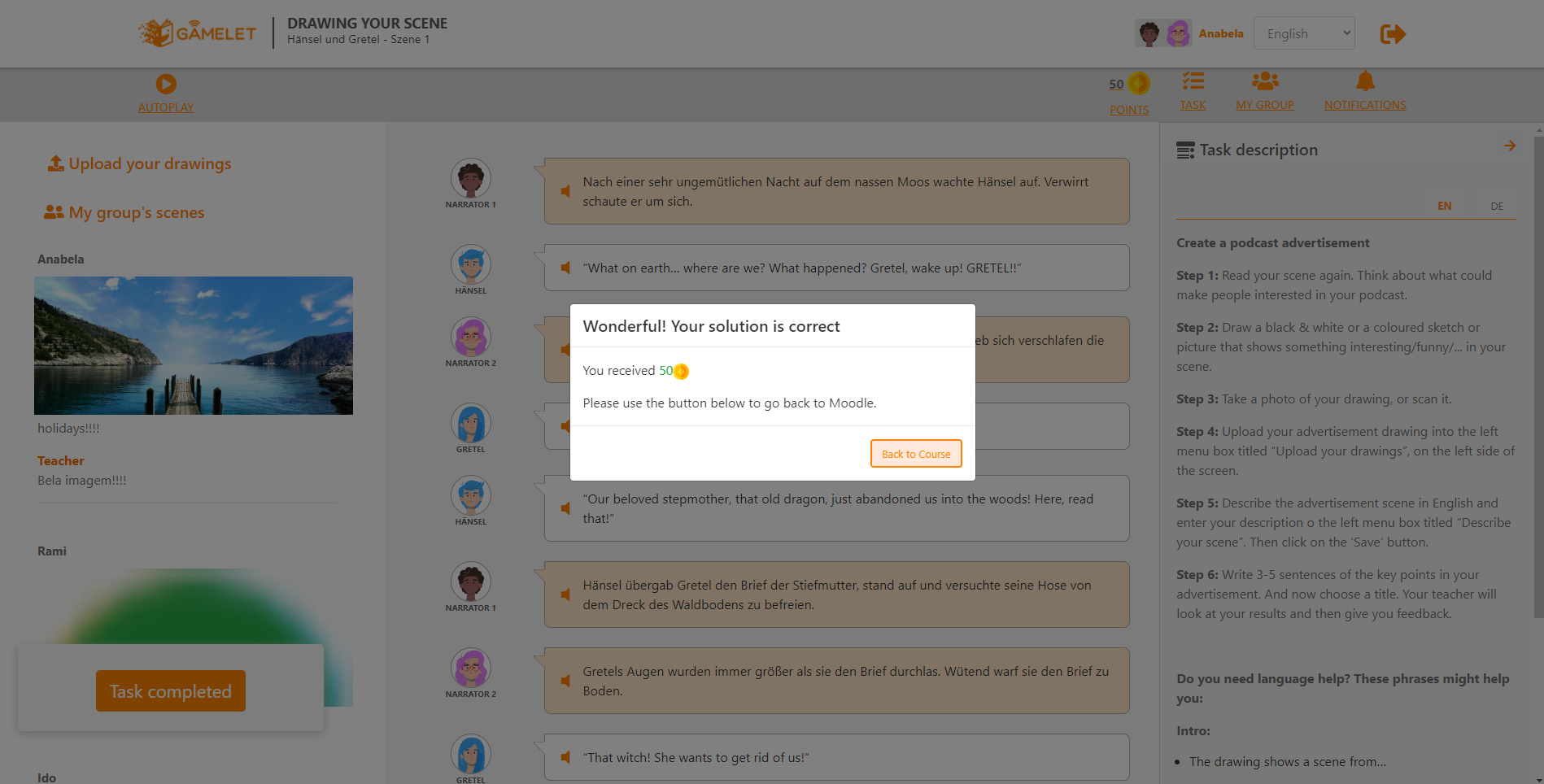 Total possible points: 50 points